The Bellelli Pepe is a fabulous toddler bike seat that is made with the kids who ride with parents in mind. Bellelli is an Italian brand that cares more about comfort, design, and value for your money. The Italian brand prides itself in developing baby bike seats that are crafted from non-toxic plastics and quality components that are kid-friendly. In all these three fronts, the Bellelli Pepe bike seat does not disappoint. As light as just 6.8 pounds, the seat mounts on the back of the bike and makes every ride with the tyke behind a signature ride. Safety, comfort, durability, and value for your money make this unique child bike seat the ultimate best for every cycling family. Whether the standard or the clamp version, Bellelli baby bike seat is all you need for that awesome family bike ride.
Bellelli Pepe Bicycle Baby Carrier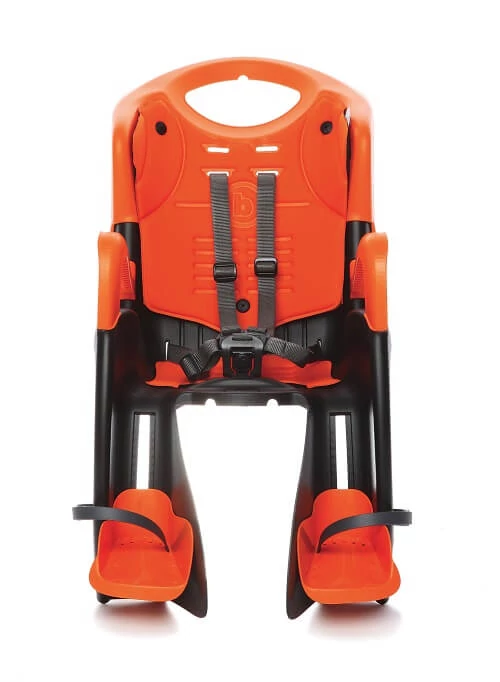 Weight - 7.25 pounds
Age range - 9 months and above
Maximum weight capacity - 50 pounds
Mount type - rack or frame
Color - red/blue
Material - plastic
The quick-release feature enables easy installation and detachment
High sideboards offer shoulder-support and containment
Lightweight yet can accommodate a wide range of differently-sized kids
Wider, safer and height-adjustable footrests for comfort, support and security
Child-proof and parent-friendly buckle system
Great ventilation
Full Review of Bellelli Pepe Toddler Bike Seat
Although not as popular as other bike brands such as Schwinn or Thule, Bellelli did not disappoint in their production of a child bike seat. In fact, the company outdid itself if you are looking at comfort and safety as top priorities.
The Italian brand endorses simplicity and style in their production and what do you know; it seems to have worked out for them.
The Bellelli Pepe seat is a depiction of all that and more at such an affordable price that it should be among the top considerations for families on a budget.
How easy is it to install the bike seat onto an adult bike?
If you are looking for a direct answer to that question, then it would be; extremely easy! The Bellelli Pepe seat's installation process couldn't be simpler or quicker.
The Bellelli Pepe is available in two different versions- one that mounts to the rack and one that mounts to the frame.
For the rack-mounted version, which we reviewed, once the rack is installed onto the bike, all you have to do is mount the seat onto the rack and secure it by clamping the tabs located at the seat's bottom onto the rack. Just be sure to tighten the clamps and use the back-up nylon straps for further security.
Note that the rack-mounted version requires an additional separate purchase of a rack.
As for the frame-mounted option, it fits a wide variety of bike frame (round seat tubes of 24- 66mm or oval seat tubes of 30-60mm).
Through a quick release system, one can easily mount the seat onto the mounting bracket attached to the bike's seat post.
This anchoring system further enables you to easily switch the bike seat from one bike to another as a simple press of the yellow button allows it to release the seat from the mounting bracket.
Be it mid-ride or whether you prefer one bike to another, it's quite convenient to be able to have a hassle-free installation.
Will the seat impair your balance?
One of the main things that usually affect balance when it comes to bike seats is the weight, both of the seat and that of the child. This is especially so for rear-mounted bike seats.
That said, the Bellelli Pepe's lightweight nature is a great feature to come by. Weighing a mere 7.25 pounds, the bike is straightforward to carry around and the steel material used in its make adds to its sturdiness.
The ergonomic design of the seat enables it to support the weight of your child with no qualms. What's even more pleasing is the fact that compared to other bike seats which usually have an average weight capacity of just about 35 pounds, this one can hold up to 50 pounds.
This is an excellent feature because it widens the range of kids' ages and sizes that can be carried by the seat. That means that if your kid is on the heavier side, then this would be a great and safe choice so long as they remain within the recommended carrying capacity.
Besides, the lightweight nature further enables stability in that the combined weight of the child and seat won't hinder your balance as you ride.
How comfortable is the seat?
We all know just how the level of comfort can positively or negatively affect the whole experience of a ride. With kids, it's even more important to ensure that they are comfortable as you ride if you want to avoid those unprecedented tantrums.
The Bellelli Pepe bike seat boasts of superior comfort due to a variety of features that have been integrated to ensure this.
To begin with, the seat has plenty of room to accommodate kids in such a way that even bigger kids won't feel squeezed. The seat is softly cushioned to give a sofa-like feel rather than a rigid rock-like feel you'd experience in other seats.
Other than being padded for comfort, the seat is designed with high sideboards to offer support for the shoulders as well as overall containment. This, in turn, promotes safety in that the sideboards can act as a sort of a shield from impact in the event of a crash.
To prevent wind drag, the seats are greatly ventilated. This is easily one of the best-ventilated seats in the market. So you can rest assured that those sunny afternoon rides won't be uncomfortable for your kid on board.
The seat further incorporates a helmet recess area and a reclined stance to offer support for the kid's neck and shoulders.
Lastly, a suspension system is incorporated into the seat to ensure that the effect of those bumpy rides is negligible for the child.
Clearly, the comfort features are not only in plenty but also very advanced for a lower-end brand- which is why we were pleasantly surprised by the performance of this child bike seat.
What about security and Safety?
Second to none is the security offered for a child being transported via a child bike seat.
From a convenient three-point buckle system to sizeable foot cups, the protective features integrated in the Bellelli Pepe seat's design are in abundance.
Through a three-point safety harness that is entirely secure and easy to use, the child remains secured in place as you pedal ahead. What is intriguing is that the buckle can fit a one-year-old just as comfortably as it can fit an older kid.
The buckle is pretty straightforward, and although not as well-made, padded and sturdy as those found in more expensive brands, it works well.
Additionally, the seat's bottom features footrests with restraints to hold the child's feet in place. The footrests are not only broad but also height-adjustable through a simple click of the quick-release feature to adjust the foot straps higher or lower.
No matter your kid's size, they are assured of a perfect fit!
What more can you expect from this bike seat?
Well, the Bellelli Pepe further boasts of an easily washable frame, which makes it quite convenient in the long-run as the plastic and water-resistant frame remains fresh and clean.
Bottom Line
If you are going for a simple yet functional seat, then the Bellelli Pepe Bicycle Baby Carrier is a worthy consideration.
Lightweight, secure, height-appropriate, extremely comfortable, highly ventilated, and most of all- reasonably priced; very few child bike seats offer the same features you are guaranteed from this seat.
Retailing at less than $100, the Bellelli Pepe child bike carrier stands out as a baby bike seat that eventually gives you value for your money. Even though the Hamax Caress or the Topeak Baby Seat II would beat the Bellelli Pepe hands down, the fact that you get the same functionality affordably makes this bike seat tick!
For babies beyond the age of 1 year, go for the Bellelli Pepe if you are on a tight budget and would like something to light up the family rides.
Please Rate This Article
SEND