Any parent would instantly fall in love with the WeeRide Kangaroo bike seat. For one, it easily attaches on the bikes and is easily removable as well. As a center-mounted child bike seat, it helps maintain the balance when pedaling and keeps the fun at the ceiling for the kid. And the fact that it is a front child bike seat further makes it a plus for parents as they can hold conversations, share jokes, and keep an eye on the kid the entire way. Let's see the magic of the WeeRide Kangaroo Front bike seat for kids.
Weeride LTD Kangaroo Child Bike Seat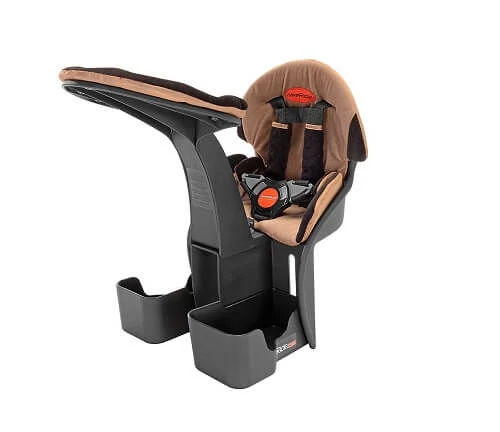 Weight: 7.2 pounds
Age range: 1- 4 years
Maximum weight capacity: 33 pounds
Mount type: front-center mount
Inches for mounting: 0" on the headset, 4" on the seat post
Compatible with a wide array of bikes including those with limited space on headset
Steel support bar is rigid
Front-mounting enables visibility of child at all times
New mounting bar design enables easy set-up and detachment
Super comfortable seats give a sofa-like feel due to heavy padding
Central positioning offers optimal weight distribution and enables stability and balance for adult rider
Deluxe padded headrest/ dashboard keeps hands busy
5-point harness and shoulder straps secure the child in place
Seat is easy to remove for solo rides
Height-adjustable foot cups for securing and supporting feet
Affordably priced
Shoulder straps are set low hence they tend to fall off thus making them unrealistic for kids with long torsos
Full Review of the WeeRide Kangaroo Child Bike Seat
All bike enthusiasts who ride with their kids can agree that ultimate comfort and maximum security are the key ingredients to a great riding experience with a baby or toddler.
So how exactly did the Weeride Kangaroo child bike seat perform when put to the task against these variables?
The short version of its performance can be summed up in one word; superb! But that's not what you're here for, right?
Here's all the nitty-gritty that you need to know about this child bike seat.
Sleek Contemporary Design
When it comes to looks, this seat from Weeride quickly takes the cake for being one of the most appealing child bike seats that we have ever come across.
The bike seat sports a sleek modern design, so if you are one for the looks, then this is just the bike seat for you.
What's more, the seat functions just as remarkable as it looks.
Easy to Mount and Dismount
The seat attaches to a quality steel support bar that mounts between the seat post and headset (in front of the saddle and under the handlebars).
The mounting is perfectly positioned in such a way that it doesn't interfere with the adult rider's gears and brake cables. That way, you can ride comfortably without worrying about the child's hands or feet.
And the process is so simple and fast, and you'll be all ready to ride together within minutes of getting the package.
To detach it, all you need is a simple fastener, and you can easily embark on your solo rides.
Compatible with most Bike Types
The great thing about this seat and mounting bar is that it fits a wide range of bike types. In fact, drop handlebar bikes and those with a frame of less than 16-inches are some of the few bike types that this seat won't fit.
Otherwise, if your bike has limited space on the headset/ oversized head tube, then you're in luck as the seat will undoubtedly fit.
Front and Center-Mounted Seat offers Better Stability and Weight Distribution
One of the most distinctive features of the Weeride Kangaroo is that it mounts to the front and center of your bike.
The seat can comfortably carry kids within one and four years old and with a maximum weight capacity of 33 pounds.
Further, the ergonomic design of the seat allows the child's weight to strengthen rather than impair your riding ability in that it enables optimal weight distribution. Heavier weights thus increase the bike's stability.
In comparison to rear-mounted seats, this seat placement helps the center of gravity to stay where it belongs. This is, by far, one of our favorite features about this seat.
There are a lot of other great advantages that come with this front positioning.
For starters, rather than being mounted to the handlebars or the rear of the bike, the front and center mount further steers the child away from the gears and handlebars.
Secondly, this positioning has the advantage of offering better balance for the adult rider due to its central placement. Therefore, even navigating corners with the seat in a position won't be a hard task.
The front positioning further offers safety and comfort for the young one as they feel more protected with the adult's arms around them. Another advantage is that your child remains visible at all times, so you can quickly tell when something catches their eye or when they get bored.
As such, your conversation flows smoothly as well. No need to keep turning your head to hear what your child has to say!
Comfortable Riding Stance
The great thing about the positioning of this seat is that it has minimal effect on the rider's stance. Unlike a majority of front-mounted bike seats where the fear is always that the rider has to ride bow-legged to accommodate the size of the seat, with this seat it's quite the contrary.
Its small size enables both the rider and the little passenger to seat confidently without the seat impairing the pedaling
Children between one and four-year-olds who lie on the smaller side are, however, the ideal fit for this seat.
Ultra-Thick Padding enhances Comfort
The features that have been put in place to ensure your child's ultimate comfort are also in plenty. To begin with, the seat itself is ultra-thick and features back padding, so your child doesn't feel like they are sitting on or lying against a rock.
This sofa-like feel is a feature that you won't just find in any child bike seat.
Five-Point Safety Harness Secures Child in Place
While the front placement of the seat puts you in a better position to protect your child in the event of a fall, this doesn't negate the need for safety features. As such, the deluxe safety harness and especially the oversized buckle system were thoroughly pleasing features to spot as they ensure maximum safety for your child.
None of our reviewers felt that the child was at risk of falling off while riding as a 5-point safety harness with shoulder straps secures them in place.
Our only reservation about this safety system is that the shoulder straps are set too low for kids with long torsos to comfortably fit so they would have to squirm out of it.
If your child is, however on the smaller side, then they shouldn't have a problem with the straps.
Truth be told, the seat starts low and while it generally has no effect on the child; the low setting means that it would be more convenient for your child to use a helmet that doesn't point at the back as the point would easily cause discomfort to the adult by continuously jabbing at your chest.
Adjustable Foot Holders hold the Child's Feet in Place
The child is further held in place through height-adjustable foot holders. The great thing about this adjustability is that it allows the seat to grow with your child so you are assured of a tailored fit even as your child grows.
Padded Hand Rest for Ultimate Comfort
A multi-functional padded hand rest serves to keep the child safe from falls and simultaneously keeps their hands away from the handlebars and gears. The front bumper acts like their steering wheel and steers their attention away from distractingly holding your handlebars.
More importantly, it also acts as a headrest that keeps little heads comfortable by providing a resting area when they get sleepy or when it gets too windy.
Bottom Line
If you are looking for an aesthetically pleasing ye fully functional child bike seat that will ensure great bonding times for you and you're your kid, then this is just the bike seat for you.
Only three words for the WeeRide Kangaroo Child Bike Seat: Elegant, secure, and super-comfortable!
Please Rate This Article
SEND