The Topeak BabySeat II bike seat certainly isn't the cheapest child bike seat you can find in the market today but tell you what; its features match its price in such a way that very few purchasers have much to complain about it.
The first thing you will probably notice about the Topeak seat is that it looks great. That said; if you are looking for an aesthetically pleasing yet exceedingly functional child carrier seat, then this is just the bike seat for you.
What more does the Topeak BabySeat II have to offer? Have a look.
Topeak baby seat II Child bike seat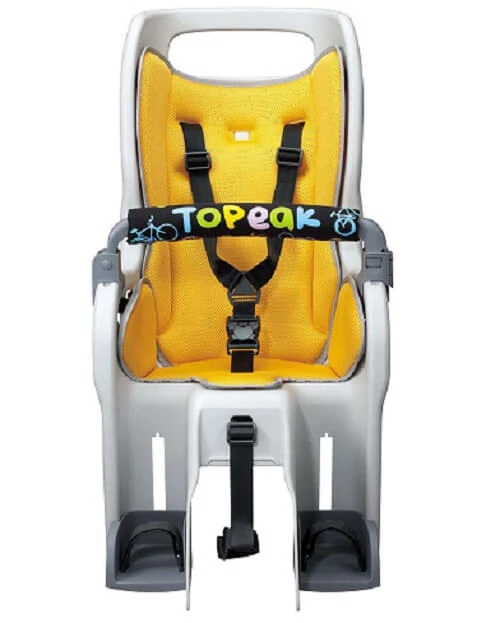 Salient Features
Weight: 15.4 pounds
Age range: 1 year and up
Maximum weight capacity: 48.5 pounds
Dimensions: 15.4 x 32.5 x 19.8 inches
Mount type: rear rack-mounted
Material: aluminum
Seat pad colors: yellow, blue, green, pink
Available in the disc and non-disc brake models
Wrap-design cocoons the child adding superior protection
The innovative suspension system makes for smooth rides on bumpy roads
Easy-to-use and continuously adjustable buckling system
Rear reflectors increase conspicuity
Not compatible with most bike frames
Seats' proximity to the saddle makes for a tight fit especially for larger children
Pricier than most
Features that make the Topeak BabySeat II Stand Out
If your bike can hold a rack, then this rear-rack mounted child bike seat is exactly what you should consider. The rack it comes with enables it to be a great fit for a wide variety of frame sizes
If your bike has disc brakes, the better. Note that it also comes with a non-disc version so be careful to choose what suits you.
Easy Installation and Removal
We had the easiest time installing this seat into place.
Simply attach the rack via the four bolts and mount the seat into place through a yellow slide lock place between the seat's bottom and the rack's upper side. This goes for both disc and non-disc models.
High Maximum Weight Capacity
A distinctive feature of the Topeak BabySeat II is that it has a high maximum carrying capacity. With a maximum of 48.5 pounds, this means that a wider variety of kids of different ages and sizes can all fit comfortably on the seat.
And yes, oh yes, the longevity of the aluminum seat is assured so if you start early, you won't need to worry about replacing the bike seat for a long while.
One of the bestselling points of this seat is its cocooned seat design. The wrap-around design of the seat offers maximum protection as it completely shelters the child from outside force and impact.
Noticeably, the seat is relatively larger in comparison to front-mounted child bike seats and other rear-mounted types that we've come across, but the wrap-around protection wasn't a problem for us. This is especially considering that the larger size doesn't block your view of the road nor does it affect your riding stance as a large front-mounted seat would.
Our only qualm about this seat is that unlike most rear-mounted bike seats, it does not recline. That, however, has minimal effect on the functionality of the seat and would only present a bit of discomfort during naptime.
Furthermore, the seat set-up may be too close to the rider, depending on their size. The proximity to the adult rider's saddle makes the seat unideal for larger-sized kids as they are bound to experience discomfort or might end up having bruises or scrapes from consistent friction.
On a more positive note, the seat is conveniently constructed to fit a helmet as it sports a recessed area at the back. That way, the little one's head won't be slumped forward by the weight of the helmet.
There are many great features about this seat, but our favorite is that the seat pads are removable for easy cleaning. No stress if and when you decide to clean things up.
In addition, they are available in a variety of vibrant colors for you to choose from!
Secure and Adjustable Buckling System
The seat further features an upgraded harness system with multiple height adjustment settings
Here's the thing about multiple-height adjustment settings; you can continually adjust the shoulder harness for a more customized and secure fit rather than being limited to a few settings that sometimes don't just get it right.
This, in turn, offers superior protection. Moreover, the buckling process is quite simple and pretty straightforward for a restraint system.
It further features a padded crossbar for resting the hand and caging the child within. The lap bar locks into place to combat any instances of falling off in case the straps are faulty.
The integrated roll bar provides head protection and conveniently works as a carrying handle.
To protect the little one's feet from the revolving wheels, the seat is equipped with adjustable footrests at the bottom with foot straps that enable a personalized fit.
The foot wells fully enclose your child's feet such that even if you weren't to use the straps, then their feet would still be protected.
Another great feature about this bike seat incorporates an innovative suspension system that works well to shield the child from the impact of bumps and sudden jolts. This is great if your child is especially sensitive to shocks.
The dual steel springs are a great addition although we will say that the springs do take some time to get used to
When it comes to riding, you can never be too careful, so the seat's back having reflectors that aid in increasing visibility in low-light settings was a great feature to integrate into the bike seat.
As a bonus, this bike seat further complies with many safety standards including CPSIA.
Final Words
If you are looking for a rack-mounted child bike seat that is compatible with disc brakes, then the Topeak BabySeat II should definitely be among your top considerations.
Simple and efficient, this child bike seat will definitely deliver what it promises.
Please Rate This Article
SEND