If you asked us why we fell in love when testing the Thule Yepp Maxi, we'd say it is because it is highly visible on the road, comfortable for kids, and light. The Thule Yepp Maxi Bike Seat is a darling to many and a name in most households.
If there is a bike set that has, through time, gained adoration and loyalty, it is the Thule Yepp Maxi Bike Seat. Ask any biking family and get the information for yourself.
The Thule Yepp Maxi Bike Seat is simply a show of how aesthetics wrapped in an efficient design can win the heart of many. Designed for children from 9 months to 6 years, it is a child bike seat many prefer buying before transitioning their kids to balance bikes. It comfortably bears a weight of up to 48.5 lbs/22kg.
Thule Yepp Maxi Bike Seat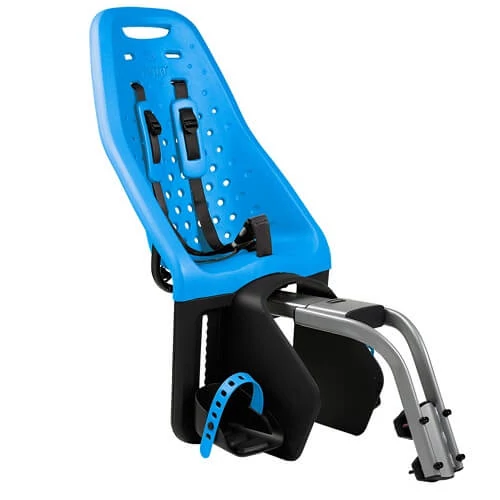 Reasons Why Thule Yepp Maxi is Loved by Cycling Families
Mounting
There are two versions of mountings for the Yepp Maxi: The rack-mounted version and the frame-mounted version. The rack-mounted version attaches to the rack, which is our version of focus on this review. It offers a quick and easy mounting on the bike. To attach it on the racks, you will need to purchase a Thule Yepp Maxi EasyFit adapter or the Thule Yepp Easyfit Carrier, X-Large, which are sold separately.
As for the frame-mounted version, the seat base is mounted on the seat tube of the adult bike using two rubber-backed clamshell-like panel grips of about 10 cm of the seat tube. The two steel bars that project up present a docking point for the Yepp Maxi seat.
When testing, we noticed that it has a great tire clearance yet a sturdy geometry. We initially feared it would wobble but woe unto us it did not.
Design and Comfort
The Yepp Maxi is designed using an EVA polymer that, combines with the structural steel hardware, offer comfort, durability, and support and functions as a shock absorber.
The plastic plate has ventilation spaces that help the child cool off during hot seasons. The ventilation serves to reduce sweating on the backs of the children, especially when they lean back for naps on the ride.
The plastic is easy to clean, weather-resistant, and visible. In the design, comfort and support are balanced. The EVA form does not discolor and absorbs all the shocks better.
The unique and quality design of the Yepp Maxi rear child bike seat is such that the rider does not hit their knees on the seat as it is rear-mounted. However, this is only true for large adult bikes. For the smaller bikes, pedaling can be a bit challenging and uncomfortable.
Safety
When thinking to purchase a child bike seat, whether rear or front-mounted, safety is the first criterion that parents check. The Thule Yepp Maxi has a bunch of safety features, which is probably why parents and kids love it.
Thule Yepp Maxi has a set of shoulder pads to which the child is secured and comfort maintained. Also, it comes with nylon straps, which are perfectly included in the design and help secure the baby.
Children can be obstinate sometimes. If you are not careful, they might end up forcing their legs into the spokes, and that sounds disastrous. However, with that in mind, the manufacturer included the adjustable footrests that accommodate various leg lengths to hold the kids' legs in one place.
Thule Yepp Maxi child bike seat comes with a five-point harness system that is easy to use, buckled, and childproof. Also, compared to other bike seats, Yepp Maxi comes with a slightly higher backrest.
Higher backrest height and attaches to most bikes.
Has two options: the rack and frame-mounted versions.
Meets European standards of safety.
Visible, sturdy, and comes in different colors.
Comfortable, safe for the kids, and weather resistant.
Higher weight limit compared to Yepp Mini.
It lacks the reclining capability.
The child will struggle to see ahead. Most of them are always curious.
Does not have handlebars for grip on bumpy rides.
Considerations when Purchasing the Thule Yepp Maxi
The Thule Yepp Maxi child bike seat is a rear-mounted child bike seat. It is a best seller and a preference in families that cycle with kids, not yet the age to ride independently.
When you purchase the rack-mounted Yepp Maxi seat, you will have to purchase the Thule Yepp Maxi EasyFit adapter or the Thule Yepp Easyfit Carrier, X-Large to fit it on the bike.
The Thule Yepp Maxi EasyFit Adapter fits on rear racks measuring 4.5-6.7 inches.
The Thule Yepp Easyfit Carrier, X-Large fits in the rear racks of 4.5-6.7 inches and is held securely using 4 bolts. You can use it both for the bike seat and bike bags.
The requirements of the frame-mounted Thule Yepp Maxi differs.
The seat is durable, comfortable, and visible. It is also weather-resistant and comes with ventilation holes.
It is worth all the dime. When you purchase this seat, we are talking of something that can serve generations upon generations. If your family is one that loves bike parking, it will be a worthy investment year upon years.
Finally, this is an honest Thule Yepp Maxi Bike seat review. If you feel our review is lacking something, please let us know through the comments section. Your feedback is greatly appreciated as it will help us grow the global population of cycling families.
Please Rate This Article
SEND