If you are looking for a front child bike seat that is easy to mount and easy to use, the iBert Safe-T Seat front-mounted bike seat should top your list. We have noticed the love for the iBert Safe-T seat among most cycling households.
Notably, it is loved by parents who do mountain biking or are passionate mountain bikers. Hands down, maybe for its simplistic design, we had many parents praising this bike seat for toddlers.
iBert Safe-T Toddler Bike Seat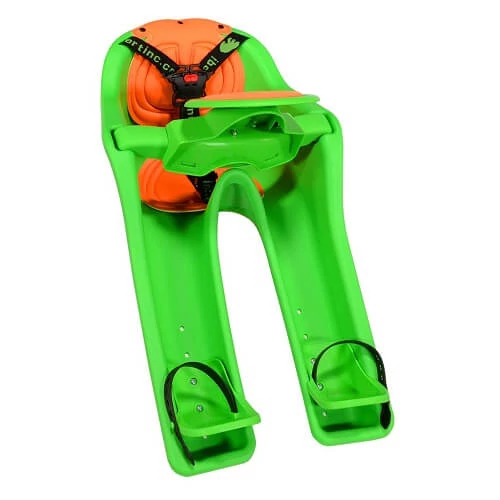 Full Specs of the iBert Safe-T Toddler Bike Seat
Best for children aged 1year to 4 years (48 inches tall).
Has a quick-release system.
Meets British Safety Standards
Comes with shoulder straps
Green, Pink, and Red color.
Dimensions: 14.2 x 26.5 x 9.3 inches.
Weight of the seat: 3 pounds.
Maximum weight limit: 38 pounds.
3-point harness system
Foot cups and straps.
Removable seat pads.
Steering wheel, steering wheel pad, and lap bar.
What sets the iBert Safe-T Seat Apart?
To begin with, the iBert Safe-T seat is front-mounted to the steering tube on the front of a bike. Now, there is always something impressive about cycling with your kid in the front – you can always share jokes, stories, and make it a moment to bond and create memories.
Sometimes, you can both sing songs and talk about the environment and every other thing on site. And when the little one is ahead, chances are that they will never risk sleeping and missing the thrill of the moment.
Well, some do sleep, but you can be guaranteed they will be safe when on a front-mounted bike seat.
Great for Mountain Biking
Not all parents take their kids with them mountain biking for lack of options to do so. However, that should ideally change with the invention of mountain biking child bike seats. The iBert Safe-T Seat is among the most comfortable options to carry your child as you do some mountain biking. It can be the right choice for whetting the appetite.
When testing and from parent testimonials and interviews, we can confidently state that this child bike seat mounts easily. It attaches and detaches in just a few minutes. It also has plenty of legroom, even for as tall as 6-feet tall parents, which is useful when climbing or tackling tough terrains.
Easy to Assemble
You do not have to worry about how to assemble the iBert Safe-T. The process of iBert Bike Seat installation is pretty simple.
You have to install it only with two simple bolts straight out of the box. You only have to ensure that you have three-quarter-inch space on the headset of the adult bike. The 3/4" space is a requirement for both the threadless and threaded headset bikes.
You do not have to worry about whether or not it will mount on your bike. Mostly, the included iBert mounting bracket is compatible with all the bikes in the US markets. Surprisingly, even the bikes with dropped handlebars can safely accommodate the seat.
Assembling requires you to attach the T-shaped mounting bar (stringer) on the steering tube using an Allen wrench. The T-bar can either be steel or aluminum. You will then attach the seat onto the patented T-bar and use the locking pins to secure it in place, and you are ready to go.
Here is an installation instructional video.
Multiple Colors
Children love colors, and parents have their preferences. Colors can be a determining factor on whether a child will love or hate a bike seat. It comes in green, pink, and red colors. You can choose depending on the preference of your child.
The color choice has some scientific background. The color options are proven to be UV inhibitor protected.
Steering Wheel Kit
You can purchase the steering wheel kit for the iBert Seat. It helps keep the child preoccupied as they enjoy the surrounding.
The steering wheel kit is attached to the lap locking bar, which holds the child into place as they ride. The padded steering wheel also acts as a headrest for the kid.
Removable Seat Pad
The iBert features a standard removable padded seat. The seat pad is machine and hand washable and thick enough to give comfort to your young rider.
The seat pad protects the backs and the butts of the kids. Even the steering wheel kit or the headrest is padded.
Stable and Safe
The iBert Safe-T seat answers your question on whether front-mounted seats are safe. Yes, the iBert is set such that it has a lower center of gravity compared to other child seats.
Tests, anecdotal evidence, and surveys revealed to us that instances of injuries during crashes with the iBert yielded nothing to worry about. If you are not as yet a confident mountain biker, you need to ferry your child around in trailers instead. However, the chances of your child falling when in the front child bike seat entirely depends on your confidence levels.
The child is guarded by the three-point harness shoulder straps that securely hold the child in place. However, there have been complaints that they are not snug enough and our testers reported the same. You can do some DIY modifications on the straps using plastic bands.
The seat also comes with a lap-locking front bar that secures the child in place. And in case the child's head moves forward, when you hit a dip or a raised object, they can safely land on the headrest that has padding.
Durable Child Bike Seat
Everybody loves something that can serve them for some time. iBert Safe-T bike seat is precisely that product you will use to boredom. It gives you service and value, while you give it a run for its money.
It is one bike seat you can take for as many family bike tours as possible, and it will stand the test of time. Besides, you can mountain bike with it for a while. And if you are the kind type, you can bequeath it to a friend or relative, and you will be surprised it will maintain its sleekness if well-maintained and treated.
The plastic cocoon used is easy to wash, just with regular soap and water. An endless number of times we thought it would crack and give in the life-cycle, we were wrong. Most parents have praised it as one resilient child bike seat.
The durability of the stainless steel and resistant aluminum construction ensures the seat drags through ages.
Affordable Front Child Bike Seat
With its simplicity, features, and service assurance, the iBert is a cheaper option for a front child bike seat. Compare it with more expensive options like the Thule Chariot trailers; you will appreciate this price.
And for its durability, even a second-hand iBert will be a positive investment. In short, iBert gives you value for your money.
A Kids' Darling
Maybe because of the colors or better yet the simplicity. Whichever reason it is, most kids naturally approve and fall in love with the iBert Safe-T seat. The design is quite something to look up to as well.
The little bucket like sat is comfortable. Besides, the child has a steering wheel kit where they can rest their legs or simulate driving. Still, with the leg cups and straps, the children are always safe from the spokes.
So, with the kid-approval advantage, it is a bike seat that will entice your child every ride.
Our Worries with the iBert Seat
During our testing, evidence from research, feedback, and reviews, we can report that there are a few trepidations with the iBert bike front seat.
First off, the low backrest is not quite some good news for parents with taller kids. It cannot, therefore, grow with a kid like other bike seats.
The second concern we had was that the protruding plastic extensions for the legs could be a safety loophole. The child can place their legs on the handlebar. So, always ensure that the child has their legs supported by the leg restraints.
Note: Always make sure your kids wear a helmet when enjoying a ride on the iBert Seat.
Easy to mount and use.
Suitable for every terrain (off-road and on-road rides).
Affordable price tag.
Easy to clean and maintain.
Comes with 2 years warranty.
It's a center-mounted seat, and thus stable.
Tip-over protects the kids.
Low-quality shoulder straps.
No back and neck support for the kids.
Not safe for sleeping kids.
Conclusion
You can start your kid on mountain biking experience from when they are 1-year thanks to the iBert Safe-T seat. It is always never a dull moment when you have your kid in the front-mounted bike seat. You can joke, laugh, sing, and talk together on the go.
And when you are thinking of a durable, easy to use, easy to install, and safe version of a child seat other than a bike trailer, think iBert. It is a fantastic, lightweight, and versatile toddler bike seat that is manufactured, tested, and distributed in the U.S.
Get this bike seat and create a lasting memory.
Please Rate This Article
SEND