While cycling is considered the best way to get alone-time, it is also the best way to get time with our nearest and dearest. The two wheels, since invention, have magically revolutionized relationships. At the family level, biking with kids can be a great and unforgettable encounter.
Unlike other sports, cycling with your kids do not need any fancy equipment. Besides, you do not have to book trains and airplanes or pay packing and admission fees. It is always about getting to interact amongst yourselves and with nature. It is always fun to see you kids independently take on the track. Of most fun is hearing them cheer you up when they are behind in the trailer or bike seats.
We all have memories of those long bike trips with our folks. While cycling with your kids, or just embracing family cycling, you get to live a healthy life. There are loads of other benefits of family cycling.
We have put together this article to guide you on how to prepare family cycling trips, the equipment required, and safety considerations. Overall, we would love to see a family that rides together, grows together, and one that is happy.
Tips for Planning Long Bike Rides with Kids
Whether you are biking on vacation or just having fun cycling with your kids in bike parks or parks, you need to do some planning. Kids, when uncoordinated and uncontrolled, can be troublesome. What starts as an enjoyable ride, can turn out to be an ordeal. However, here are some steps to avoid disappointments.
Plan the route early: When picking the routes for your family bike trip, choose the kids friendly parks. Alternatively, you can choose the paths with kids-friendly.
Flexibility in Planning: Because the kids love thrills and fun, it is always good to have alternative routes. Besides, the weather might just decide to behave, and alternative route planning can save you. These routes should lead to alternative finishing points. It gives the kids a sense of achievement that they hit the finishing line.
Check the bikes and gear: the Chances are that your kid can outgrow a bike if it has been in the garage for a while. Therefore, it is prudent to check the bike and raise the saddle if need be. Sometimes, the checking routine is to repair and maintain the bike. Ordinarily, this is a step you do not want to miss, especially if it is the first family bike ride. Check whether the kid can still pedal smoothly without knocking the handlebars. It is also good to check the knee and elbow pads, the helmets, cycling gloves, cycling clothes, and hydration packs for the kids.
Pack right for the Trip: When cycling with the whole family, packing some of the meals can be a great way to save money. Always ensure that you do not over pack the meals. Besides, use sealable packaging materials to ensure the safety and quality of the meals.
Engage the Kids in Every Step: While the kids are often left out, engaging them when planning bike trips can be resourceful. Have a map of the trip and let them know the strategic landmarks they will encounter. It is one way of learning and teaching the kids about directions and how to read maps. Encourage the kids to take as many photographs as they want. For this, you could buy them cameras or lend them your phone. With the images, create a physical travel log for fun. Besides, you can use fitness trackers with GPS to show how important technology is to your kids.
Please do not ignore the Snack Stops: when cycling with your kids, ensure that you have stops for them to nibble some snacks. Always pack a lot of those. Bike riding can make kids ravenous, especially if it is a long ride. If you are riding with trailers, let the kids have some time to rest between the destinations.
Research on the weather and the Terrain: When planning the routes, always be keen on the weather forecast. If there is a possibility of weather changes, prepare handy and have a contingency plan for the same. Research on the terrains you will encounter. This is important, especially if you are doing the tandem bikes, trailer bikes, and tow bikes with kids. Plan in advance how to save some energy for such spots in your route. Mostly, these are the most exciting spots for the kids. It would be good if you tackle them like a pro.
Practice before Leaving Home: If your child recently graduated to pedal bikes from balance bikes, you need to test their confidence. Have the kids ride around for 30 minutes as you pack the essentials in the car. If it is the first family ride for the year, it is possible that they have forgotten the rules. Do a drill to bring them up to speed with the dos and don'ts. Remind them of the safety tips.
When cycling with toddlers and children, planning is just one part. You must accessorize. The fun in biking and its immense benefits to the environment makes it a preferable family activity. Most families are embracing bike riding with their children. It is like giving thanks to Mother Nature.
Cycling Accessories/Equipment to Consider when Cycling with Kids
After introducing your baby to a bicycling through training, it becomes addictive. Most parents always ask "what is the best age to take their toddler cycling for the first time?" Well, different states have regulations on when a parent can cycle with their kid. It is always best to consider the time when the kid can comfortably wear the helmets, sit unsupported, and when they turn one. There is many bluffs out there focusing on the negatives, but do not cycle with a kid under one year.
There are different options for riding with your little ones, including: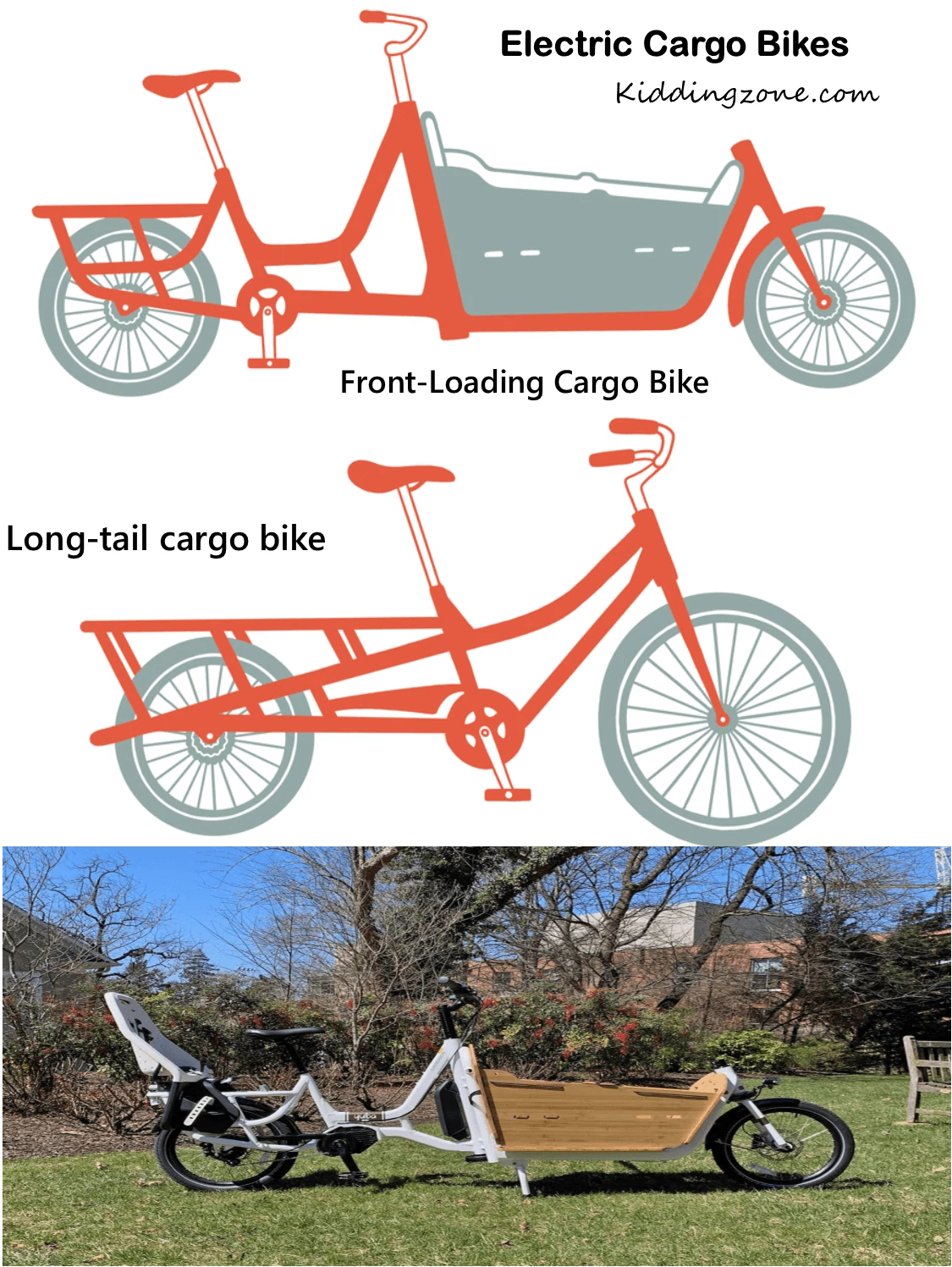 Electric cargo bikes are an option that is best for children aged between 1-7 years. It has the advantage of letting you climb tough hills and elevations with ease. It also travels longer than typical cargo bikes. Besides, it has an electric-assist kit, or you can add one but consult with your bike mechanic. For many families who love nature or touring bike-friendly parks, it is always a preference.
Tow Bikes for Family Rides
Tow bikes or trailer bikes enable you to ride with your little one on the back. It is always attached to the saddle of an adult bike. The kids can pedal and become rides more than just passengers. It helps build the confidence of children with handling pedals and terrains.
When biking with kids, parents have the option of using a long tail cargo bike. It can safely accommodate two to three kids and have a lasting frame. These type of bikes also come with a cargo compartment on the sides of the hind seat. When you do not have the kids, you can always ride it like a normal bike. Some cargo bikes come with an electric assist. Its beauty is in its capability to last longer. Children 1-7 years can ride in cargo bikes.
Like the tow bikes, this type allows your kids to pedal as you pedal. It is also attachable to the adult bike and turns the kids into riders. When you need an option that turns your child into a confident cyclist, this is one of the options. It is an option good for 4-10 year-olds.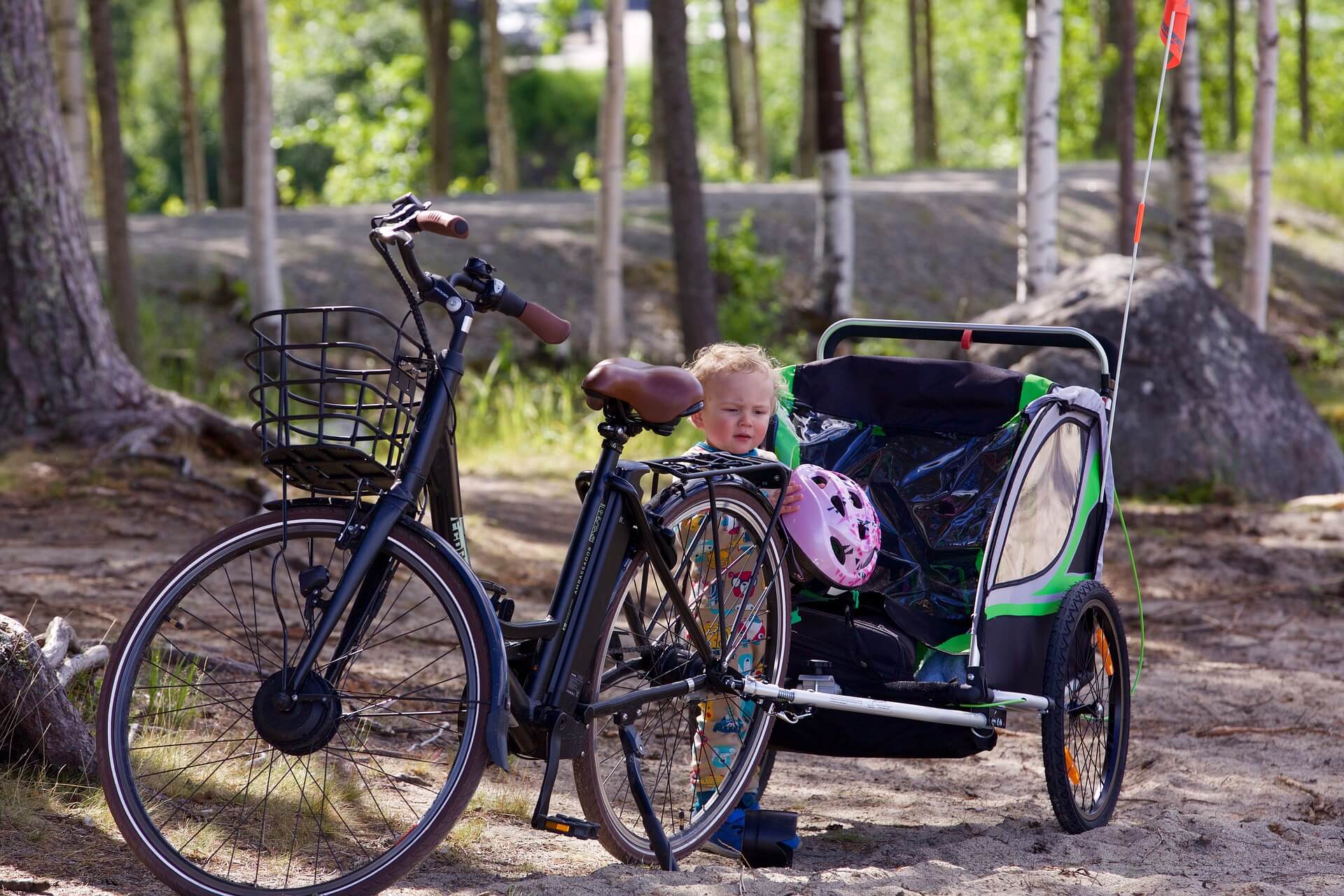 Riding with toddlers can be hectic. However, with the bike trailers, your kids can be comfortable. They can do the singing and laughing while you go hard on the pedal. Most have a compartment for one or two passengers and are durable. Bike trailers also come with weather protection and are preferred by American Academy of Pediatrics to mounted bike seats for their safety. Always consider the buying guides for both given that either has its pros and cons.
So, when you have a napping toddler and want to do a bike trip with the family, get yourself a bike trailer. It also comes with a cargo space, who wouldn't want their toddler to have fun and experience nature at a tender age? A child 1-6 years can ride in bike trailers.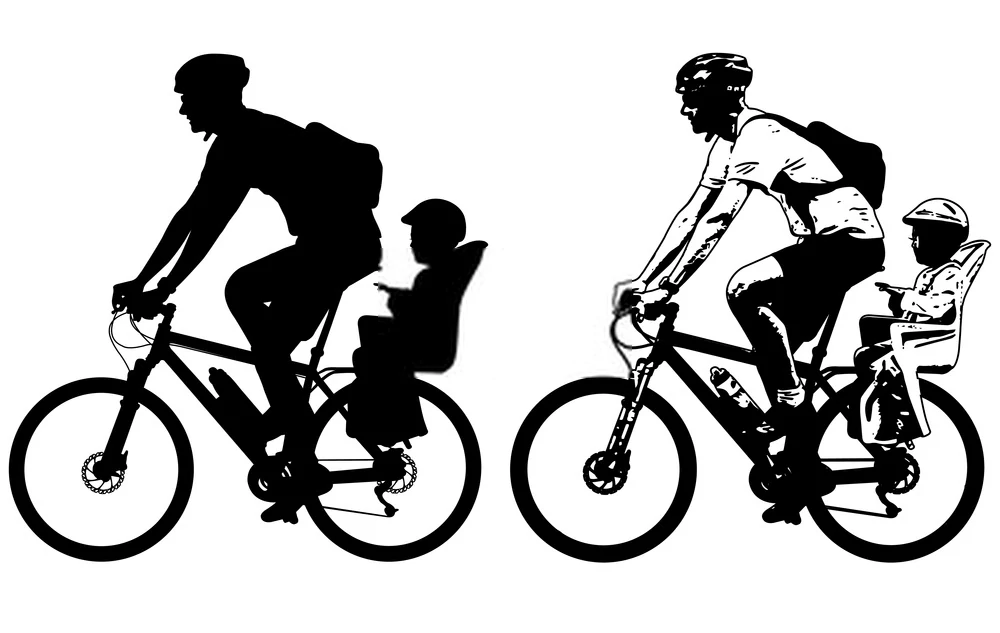 When riding with toddlers you have the option of front- and rear mounted bike seat. These are always just for one passenger. The front option is suitable for 1-3 years and the rear 1-6 years. You will always have your passenger on sight or at conversation length.
Safety Gear When Cycling as a Family
Apart from the above equipment, a successful you can spice up your family biking experience by purchasing some safety gear. Here is a safety gear checklist:
Helmets: Choose the helmets that are fit and snug for your child. Measure the head of the kids for the helmets. Not any helmet can be used for cycling.
Cycling clothing: Choose the right color of clothing for the kids. There are cycling jerseys, padded shorts, sweaters, and jackets.
Reflectors and Lights: When you are riding at night or in the evening, be sure to have reflectors and lights for the bicycles. You can buy your kids some fancy helmet lights to improve visibility.
Reflective flags: When using cargo bikes and bike trailers always choose reflective flags to stay visible to pedestrians, motorists, and drivers.
Reflective bags: Always ensure that the bags that your kids carry or any person is has a reflector for visibility.
Double-pronged kickstand: When using the trailer bikes, cargo bikes, bike trailers, or tandem bikes, have this stand to allow the bike to be stable as you load the kids. It is also preferable when strapping a baby into the child seat.
Sunscreen: if you are cycling in the sun for long, carry along sunscreen lotions to avoid sunburns.
Biking tool kit: Ensure you pack the biking tool kit, spare tubes, and tire patches. You never know where a bike will get a flat tire.
Bike Locks: Bikes are investments and locks are necessary to keep them safe in public spaces.
Fitness trackers with GPS. It would help if you had this in case the children ride behind and leave the group.
It is better to be safe than sorry. Always, ensure that every safety tool is in place and working well. Before biking with kids, orient them to the safety practices.
Safety Tips when Riding with Kids
Safety comes first in any activity. Here is a list of tips you should observe when cycling as a family.
Always ding the bell when passing pedestrians or slow cyclists so that they can give way.
Wear a helmet and make sure the kids have it on.
If you are riding with older kids on their own bikes, place them between adults.
Parents should always lead, and the kids follow.
Do not use different routes. Instead, ride as a group and enjoy together.
Use indications if you are leading to alert those behind.
Plan the ride with the knowledge of your relatives in case something happens.
If you are riding in family cycling friendly parks, follow the rules in each segment.
Use the right types of bikes recommended for different terrains and ages.
Choose a route that is safe and with less traffic.
When riding in national parks, inform the wardens and guides. Consult with the authorities before taking on an unknown route.
The Recommended Length of Bike Tours with Kids
How far a kid can cycle in a day is a question most adventurer parents ask. With the rising trend of family bike touring, most of the parents are always willing to go on biking vacations with kids. Whether it is around the country or you want to mountain bike with your kids to the Alps, it is all possible.
However, how far is far for a kid on the bike? We categorize the cycling lengths by age.
Kindergarten Age Children
Mostly, these are kids who can cycle through their everyday life. Therefore, doing 20Km a day cannot be much of a burden to them. However, always have a standby trailer or tow bar in case they run out of strength.
In a single day, an elementary school kid can cycle through 50Km. These are kids up to ten years. However, ensure that your kid is fit for a bike and cycles regularly to take this challenge. It is a good idea to bring along a tow bar in the tours to keep them excited and focused.
Past elementary school, the kids already have fit bodies. They can exercise regularly and are confident with traffic. For this, they can comfortably do over 50Km in a single say. However, listen to them and take action whenever they need some rest or reassurance. If you are taking hill climbs and inclines the better, it makes the cycling tour with kid have a lot of fun.
Even though it might seem hard to plan and execute family biking tours is always easy to plan for success. The offensive serenity and common sense can help you manage every situation during the tour. If you can do it on two wheels, why bring a car to pollute the environment?
Conclusion
A first family ride can be as successful as your first swimming lesson. Biking with kids needs planning, patience, and keenness. It is such cycling activities that brew bonds that are unbreakable. As cycling is a social activity, cycling with the kids can help them meet and interact with others.
Although most parents abandon cycling when the kids come into the equation, family tours can always be a solution. When you include kids to your vacation biking tours, it becomes spiced up. Cycling tours with kids help you give them the freedom to conquer, something every parent is proud to pass on to their kids.
Let your kids marvel at the winding trails, grass, flowers, dandelions, and all those other things in nature that they do not see often.
It also comes with the benefit of making kids active. If you are having difficulty controlling your kids' screen time, try family cycling. Most people who have gone the family biking way have reaped immeasurable benefits.
If you are doing city cycling as a family, inquire about the state-specific city cycling regulations. Gone are the days when picnics were enjoyable in cars. You can tour as many places as you wish while cycling with your kids. It is all for you to take. A bucket list with family cycling activities can change your family forever!
Related readings:
Please Rate This Article
SEND