Unlike the old days when buying a bike meant endless trips to the local bike shops, purchasing a new kid's bike online is no longer unusual these days. If you are a parent who is still wondering where to buy kids' bikes, we have your back. In this beautiful article, we will also end the dilemma of buying bikes for your kids' from online stores vs. at a local bike shop.
If the bike you intend to buy is 20-inches or smaller, purchasing online would be the best idea to save you time. However, if the child is past 20-inch bikes, meaning bikes sizes 24" to 26" buying at a local shop would make sense. But it all narrows down to your preference.
We advise so because kid-specific bike brands produce the best bikes for young children, such as Woom Bikes, Prevello Bikes, Pello Bikes, Frog Bikes, Schwinn, Cleary Bikes, and Guardian bikes, among others, are probably not stocked at the local bike shops unless you are fortunate.
On the other hand, major bike brands such as Specialized, Trek, Bontrager, and Mavic, among others, begin to produce awesome kids' bikes that come in larger sizes and are probably stocked in the local bike shops.
Now, if you have not settled for an answer already, let us get deep into it.
Why Buying Bikes Online is the Best Choice
Buying large adult bikes from the local bike shop might be a good idea because they stock them anyway! However, if you plan to purchase a kid's bike, especially for the little kids and toddlers, shopping online could save you stress and time. A recent article written by Ken Herman indicates that the online bike shop effect has brought pressure to the local bike shops, with some opting to close. And that is true!
Information Availability
Shopping for kids' bikes online has the advantage of being able to get information about the bike, such as specific size, components, age-appropriate specifications, and many other details.
Kid-specific brands sell online, mostly
Besides, online bike shops prefer kid-specific bike brands as they have great outreach compared to local bike shops. If you find a kid-specific high-end brand that sells through local bike shops alone, it probably has not explored or is yet to explore the online shop route.
Variety of Bikes online
Another reason to go shopping for kids' bikes online is that the local bike shops do not have various bikes for kids. The local bike shops are still hidden on the notion that we need training wheels, which we are heavily against. Besides, they stock bikes with coaster brakes, poor bike geometry, are heavy for kids, and are not the best bikes for kids to recommend for any parent.
Knowledge of the Personnel
We found most of the personnel at the local bike stores not aware of the kids' bikes to follow on this. Today, we have wooden balance bikes, convertible balance bikes, kid-specific pedal bikes, and even BMX bikes. To find someone who is knowledgeable enough is a tough call at the local shops. They are the type of people that would rather sell you a size 12 bike to make a sale and leave you frustrated while we already said no to size 12 bikes.
Most online bike brands have support teams that will guide you through the process or assembly, coordinate your warranty, and advise you on buy-back and discount programs as Woom does through its upCYCLING program.
Planning due to access to price
As you plan your finances to support your kid's cycling passion, knowing the price can help you set up a budget. Shopping for kids' bikes online allows you to access and compare prices at the click of a button rather than endless calls and visits to a local bike store unless the latter has a website!
Top 8 Best Places to Buy Kids' Bikes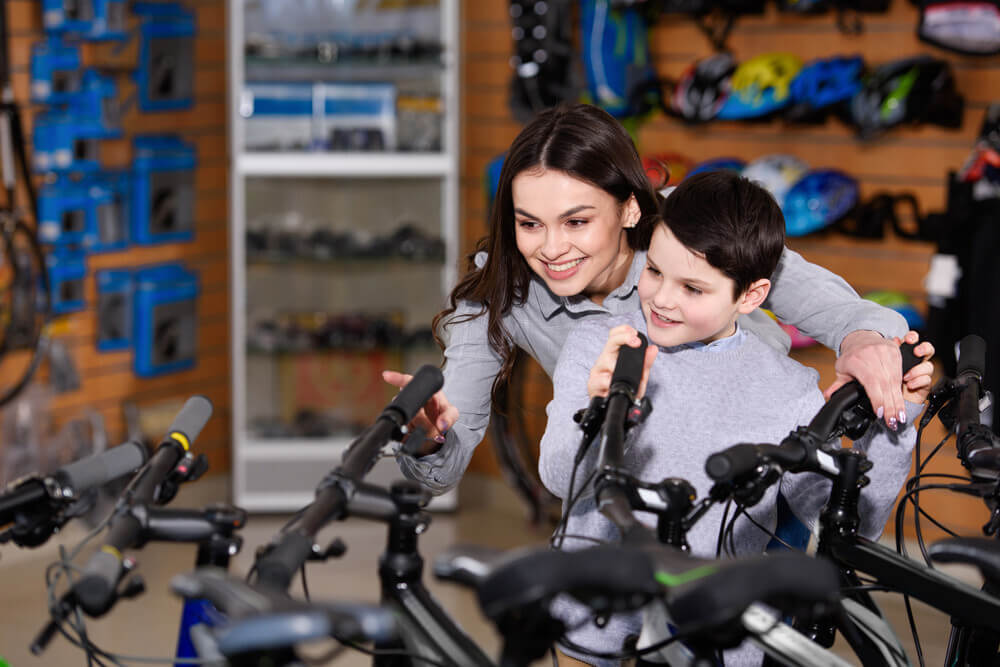 Here is a list of the best places to think of when buying your child or youth a bike and we have reasons for you to choose them as well.
Amazon is an e-commerce giant that has various kid's bikes on offer. A simple search from the website will reveal many brands of bikes specifically designed for kids.
You can narrow your search to a specific size, age, brand, weight, gears, and many other aspects.
The good thing with the e-commerce platform is that it is a trusted seller for brands such as Schwinn, Yamaha, Razor, Woom, Guardian, and other notable and new entrant brands for kids' bikes.
The fact that your kid's bikes get delivered to your preferred destination makes it a great platform. Besides, you can as well buy accessories for your kid's bikes such as kid's bike baskets, bike handlebar bags, elbow and knee pads, kid's cycling sunglasses, bells, kid-specific cycling gloves, kids' helmets, and even kid's cycling books. You can also purchase kids' cycling hydration packs and still add more to your shopping basket.
But as you shop, be keen because there are also some crappy bikes listed on the platform.
2. Kids' Bike Brand Websites
We already did a comprehensive article on the top bike brands for kids, where you can have access to the respective websites where you can buy bikes for your kids. We are talking of websites such as:
You can get as much info as there is from the respective websites to these online bike brand websites by clicking the links above. We wish you a happy purchase.
Rei coop is known for its great name as an outdoor brand. The online shop has kids' bikes and accessories, which are affordable and durable.
Your membership to Rei will not go to waste as you will shop for kids' bikes and other important outdoor items.
The brand also has an affordable line of kids' bike called the Co-op Cycles. You can again buy bikes from notable brands like Early Riders and Cannondale, a plus - all at the push of a button.
The WeeBike shop is an online bike shop founded in 2007 that specializes in balance bikes. The website also has pedal bikes, scooters, helmets, and bike accessories for kids.
The best thing yet is that you get personalized attention given the personnel's knowledge of kids' bikes. Access bikes such as the Yedo Tootoo, freewheel, Saracen. Ridgeback scoot, Dimension, and Byk brands.
The Ready, Set, Pedal is an online shop known for the best customer service and lightweight kids' bikes. It stocks bikes from kid-specific bike brands such as ByK bikes, Commencal Bikes, Frog bikes, and Cleary bikes, to mention a few.
This is pretty much a great destination to shop for kids' bikes. As an added advantage, the online kid's bike store stocks high-quality kids' bikes, which means that you end up with a bike that gives you value for your money.
Besides, this is the only online dealer that sells Frog Bikes in the USA, so if you are looking for that line of kid's bikes, there you have it!
6. Departmental Stores
You can as well opt to purchase a kid's bike from departmental stores such as Walmart, Dick's Sporting Goods, and Target
Our experience with departmental store bikes has not been the best one. However, we would tell you that if you plan to buy a bike from a departmental store such as Walmart, you either need to be extra keen or have someone knowledgeable about kids' bikes help you find the best.
If anything, never accept the bikes on display. We dislike the bikes bought from such stores because of missing components and sometimes poor assembly, especially if the process is rushed. Nevertheless, there are a variety of unique kids' bikes to choose from.
With the closed deal that saw the purchase of Competitive Cyclist, Backcountry carved a name as one of the best, legit, and reliable online bike shop.
The shop stocks nice bikes from notable kid-specific brands.
You can find bikes from Strider, Prevelo, and many more, including accessories such as child bike seats and trailers. Be sure to check it out.
If you are shopping for a unique kids' bikes and accessories, then Public Bikes should also be a haven where you can get high-quality kids' bikes. The online bike shop stocks brands such as Public Sprout V, Public Sprout C, Sprout Mini, and Public C7, ranging from size 12-24 inches, which are a great range of great bikes for any kid. These kids' bikes are beautifully designed and made with kids in mind and for kids!
Now that we have the reasons to purchase online and not from local stores, we give you a pass to buy from the local bike store. Let us find out in the next section.
When is it appropriate to buy a Kid's Bike from the local bike store?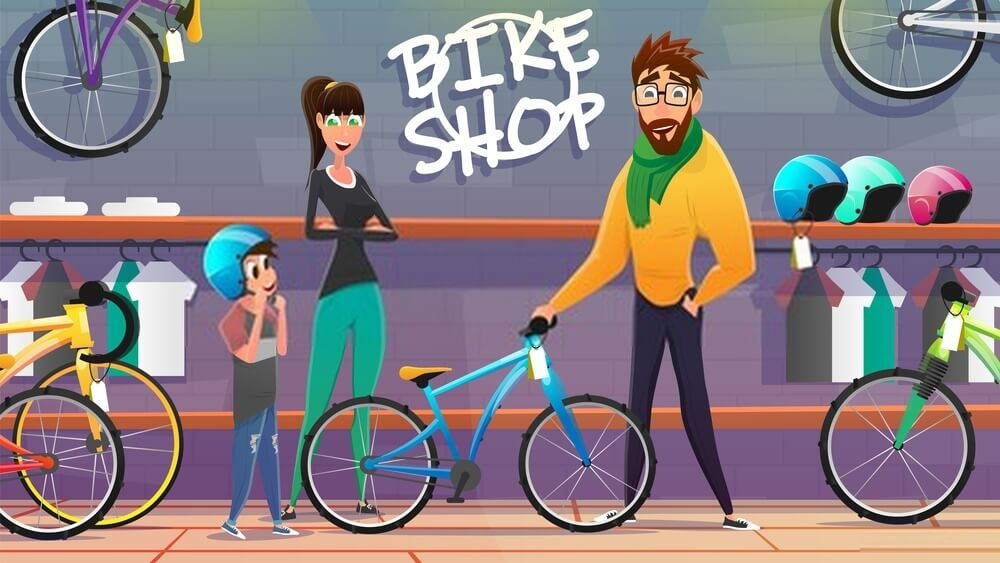 Bikes are lately becoming a rite of passage and a means of bonding as a family. According to an article in the Guardian, written by Miranda Bryant, there has been a cycling explosion during the pandemic, which is true given that Woom and other kid's bike brands had the busiest year yet in 2020. The preorders were overwhelming!
Now, this only tells you that bikes are worthy investments, and for kids, they are a tool to help pack childhood memories.
That said, seeing your kid on a bike is a special type of happiness that is indescribable. But to do that, it begins with choosing the best kids' pedal bike or selecting the best BMX or MTB (follow the links to access our comprehensive buying guides).
The Personnel is Knowledgeable
Only buy from a local bike shop if their personnel has knowledge on how to fit a kid to a bike.
The salient and reliable way is through measuring your child's inseam, which will get them a fitting bike for their age.
If they stock Kid-specific Bikes
Another reason to exclusively buy from a local bike store is when they stock the kid-specific brands you are looking for.
Sometimes kids fall in love with bikes at the local shops, which is a signal that you should go local.
Free After-sales Services
It is also imperative to buy locally if the bike shop offers free tune-ups for the bikes purchased from them.
If you are a parent who does not want to get grease, you can buy it from the local shop.
Buying online means you will have to read the assembly manual and get your hands dirty - we are fine both ways, and you too should; it is called flexibility!
When Looking for a Specific Kid's Bike Brand
We have noticed that some of the major bike brands, known for their high-end and top-quality adult bikes used in races and recreation, also prefer selling through local bike shops.
You will find more kids' bikes from Giant, Specialized, and TREK at the local bike shops than online stores.
These brands have the best "big kid" bikes for the youths; speaking of which, have you seen the Hotwalk Carbon balance bike? Well, it is the pricier balance bike, and personnel at your local bike store could elaborate to you why.
For one-on-one customer service and experience
Shopping for kids' bikes from the local bike store also guarantees you a one-on-one customer experience and satisfaction.
You also do a great job in building the local economy as you support people you probably know.
But the online bike shops have better kid bike brands and a variety of them, probably more than your local.
Bottom Line
Although buying a kid's bike works both ways, online bike stores have more to offer than local bike stores. Nevertheless, there are times when buying from the local bike shop counts more than purchasing a kid's bike online.
Related Reading: Choosing the best bike gloves for kids.
Before purchasing any kids' bike, research, take your time, and when you finally decide, purchase confidently. Err! Also, engage the little riders as you can buy, and they reject!
Major bike brands such as TREK, Specialized, BMW, and Giant will sell kid-specific bikes through local bike shops.
We disdain bikes from departmental stores unless you are knowledgeable and have someone to ascertain the quality.
Whatever your choice is, remember that a good bike can be passed down from child to child or other deserving cycling families.
Please Rate This Article
SEND